Cenacle Rosary Prayer Gathering at a Friend's House
Yesterday, I was invited to Ingrid's family home for a prayer gathering. It was a beautiful afternoon of prayer and sharing our faith with Ingrid's family and friends. We all gathered in the living room, around the statue of our Lady of Fatima, to pray the Cenacle Rosary. We then prayed the Divine Mercy Chaplet. It was all so peaceful and beautiful.
This morning when I was praying, our Lord came and said, "You'd better get a pen and some paper. I want you to write this message for Ingrid and her family."
Our Lord Jesus said, "My child Valentina, it pleases Me very much that I, your Lord Jesus and My beloved Mother Mary Most Holy, we want you to go to Ingrid and Wayne's home, to their family.  I tell you, the whole family is very devoted to us. Their faith is very strong."
"Their house has already been chosen by Us from Heaven, and in the very near future, it will be a House of Prayer and a shelter for many people," He said.
Our Lord was very joyful while He was telling me this message.
Today, in her home, Ingrid displayed all the Messages that I received from our Lord, Blessed Mother, many Saints and Angels, from when it all began.
The Messages were beautifully presented on a coffee table, in three extra-large white folders, all neatly filed. On the covers of each folder was a large holy image of our Lord Jesus and Blessed Mother. They were displayed on the coffee table for everyone to read.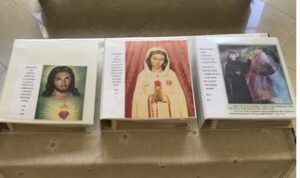 While our Lord was talking to me, He also showed me how He and Blessed Mother were talking to each other and admiring the way Ingrid so beautifully and lovingly compiled all the Messages that I have received from Heaven. They were in date order, commencing from the very beginning when it all started.
I watched our Lord and Blessed Mother converse with each other, both pointing to the displayed Messages as they were talking about them. Our Lord was dressed in a long white tunic covered by a red mantle. Blessed Mother was also in a long white tunic, with a blue mantle over her shoulders and a shorter white mantilla covering her head.
Our Lord said, "I also want to tell you that I have not seen anywhere such a beautiful display, of perfection, like in Ingrid's house."
Our Lord was looking at me and then looking at the display of Messages from Heaven. With His right Hand, pointing to me and then to Himself, He said, "These are the Messages, yours and Mine. I, Myself Am so impressed, while looking at them and admiring them. She is truly our beautiful daughter."
"Never in any house have I experienced anything like this," our Lord said.
"I tell you, these Messages will serve many people, teaching them when the time comes; that is My Holy Word. Tell Ingrid that I bless her and the family, and I Am so happy that she teaches and shares the faith with the family and with many other people."
Seeing the Messages displayed in the form of large books, Lord Jesus said, "This reminds Me how in olden times, in the temples, they would display the scrolls, so people could learn and read the Holy Word of God, which was beautiful and precious."
Blessed Mother and our Lord were very pleased with how the Messages from Heaven were presented.